i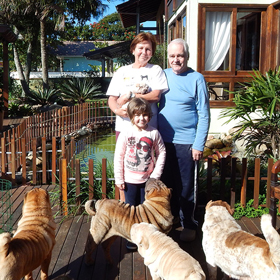 The Yeti was our first Shar-Pei. We bought it from one of the best and few Shar-Pei Kennels that existed at the time, the Kennel Canecitta by Claudia Dantas. She imported the mother of the Yeti already pregnant of a wonderful and well-known American male, the Finger Tails Kahlua Cream.
The Yeti was born in Brazil, but its pedigree is American, including one of the last Shar-Peis to be registered by The Chinese Shar-Pei Club of America.
We acquired it because we liked the appearance of the puppies, all wrinkled and because we wanted to have a companion dog to stay indoors, because at that time we were Rottweilers.
From the first day he entered the house, he captivated everyone. We got caught up in his temper and definitely changed our lives. We were very lucky with him. It gave us many joys and was the founder of our Kennel.
We entered the tracks with him with pure joys and he became the most awarded Shar-Pei at the time, including, was the first Shar-Pei to win a Best in Show in Brazil!
The kennel is located on the beach of Ubatuba, on the island of São Francisco do Sul, near the city of Joinville in the State of Santa Catarina. The pure and sunny air facilitates the good health and development of our dogs.
We are pioneers of the breed in Brazil, creating and worrying about improving these wonderful dogs since 1991, always watching over the improvement of the breed according to the standard.
Our squad has been carefully selected over the years since we started our creation. We import many dogs and many of them have become champions and are also children of champions judiciously chosen by genetics.
Our puppies are socialized at home and our main concern is with the health and temperament of our dogs, as this is what will happen to the puppies. All our dogs are docile and caring and live loose in spacious locations.